Stratford Dry Gin
£6.50 – £36.00
Our signature, award winning London Dry is a juniper-heavy, distinctively smooth and herbal-style gin, reminiscent of a summer garden.
Two years of experimentation led to the creation of our signature Stratford Dry Gin, which captures the flavours of herbs and flowers from the Tudor garden and combines with the boldness of juniper and sweetness of Mediterranean citrus. This award-winning (IWSC Silver Outstanding) London Dry gin stands out from the market as one of the few herbal style gins.
Distilled in the 'London dry' style using a single shot distillation method with botanicals including rose, lemon balm, rosemary and English lovage, resulting in a full-on floral flavour profile well balanced with herbal sweetness. At 45% ABV it is packed with flavour, yet smooth enough to sip neat. What's not to love?
Gin comes supplied as bottle only, or with Shakespeare Distillery gift box, depending on the option selected.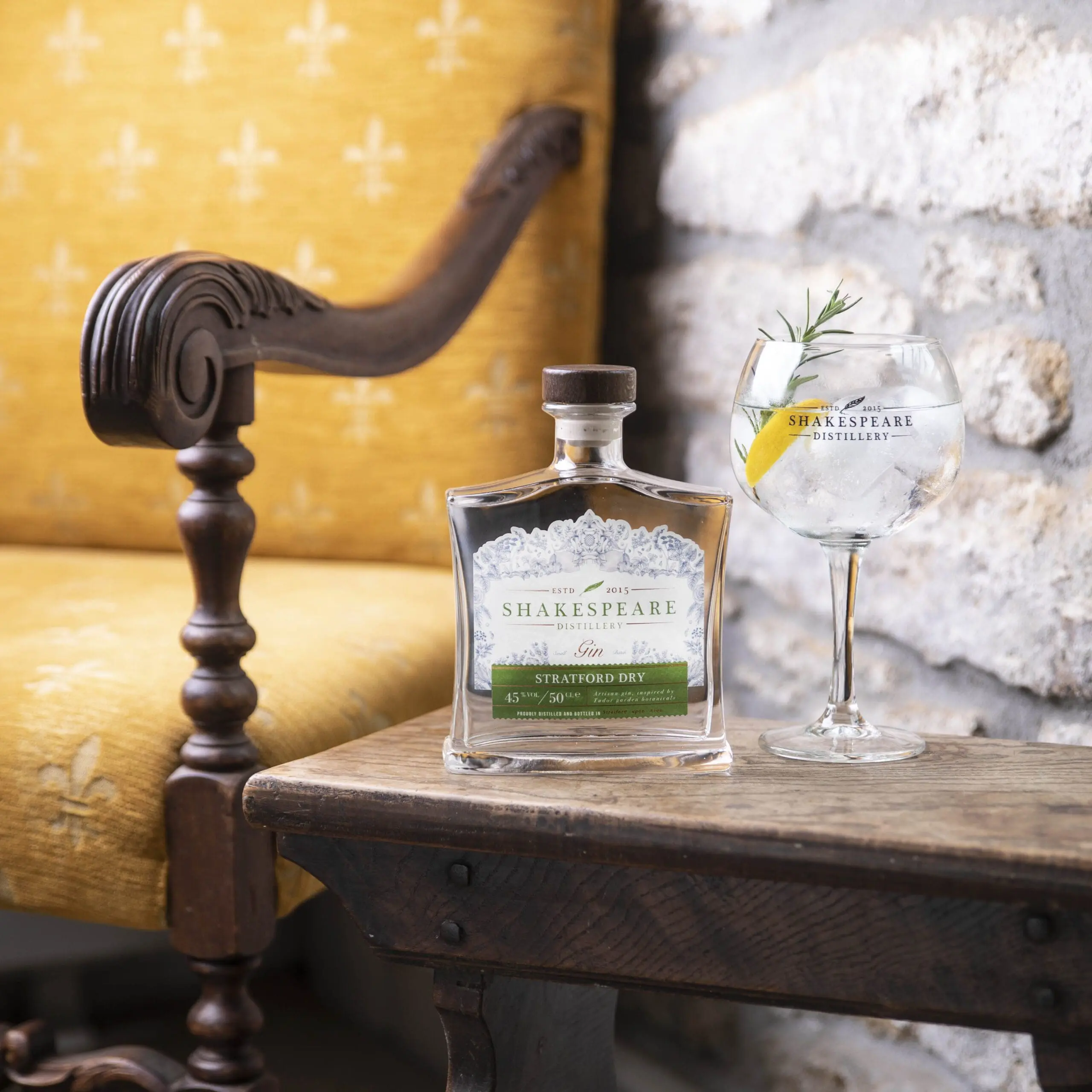 ---
Serve as a classic G&T with Indian Tonic, garnished with a slice of lemon and a sprig of rosemary.
Or why not try as a Dry Martini - a double shot of gin with a barspoon of dry vermouth, garnished with a twist of lemon peel.
at Shakespeare Distillery
When producing our Gin, all operations are performed within the distillery. We don't outsource any of the process to another company, ensuring quality and control is maintained by us.
LEARN MORE ABOUT OUR PROCESS BY PICKING A SECTION BELOW AND SCROLLING DOWN
The quality
ingredients
that make
our gin

---
The quality ingredients that make our gin
The Botanicals
To make our gin we use authentic Tudor garden botanicals including rose, lemon balm, sage, rosemary and old English lovage fused with the more familiar juniper, coriander and lemon peel.
With Stratford Gin we employ the 'London Dry' method of production, nothing can be added to the Gin other than the flavours imparted during distillation. For an added challenge and to ensure we really can say that we have created a handcrafted product we do this using the single shot method, meaning all the ingredients required to make one batch of gin are added in at the same time. We don't make a concentrate and blend this down to get the flavour we want. This means we need to put the same love, attention and passion into every batch to ensure they each have a consistent delicious flavour.
Real Fruit
Our fruit gins and liqueurs are made using 100% real fruit. Using Stratford Dry as the base, we blend this with the fruit juice or, as with our Mulberry Gin Liqueur, we leave the mulberries to steep in our Stratford Dry for several weeks.